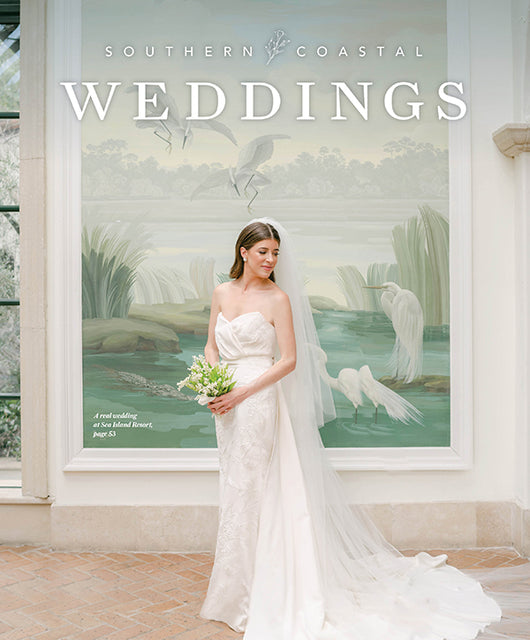 2023 Southern Coastal Weddings
Regular price $15.95 Sale
Southern Coastal Weddings draws upon the natural beauty and unique charm of the Coastal Georgia and South Carolina region — Savannah, Tybee Island, Bluffton, Hilton Head Island, Beaufort, the Golden Isles, and more. Southern Coastal Weddings offers an elevated and authentic view of the region's wedding culture … ever after, circa now. 
THE DETAILS

THE WEDDING TIMELINE: Whether hosting an intimate micro-wedding with your nearest and dearest or throwing a big bash with hundreds of relatives and friends traveling far distances to attend, pick and choose which events are right for you — or include them all! Your celebration can be whatever you want it to be.
THE MORE, THE MERRIER: Couples maximize wedding itineraries with added group activities for extra quality time with their guests.
THE MOTHER OF ALL BRIDES: A newly minted M.O.B. shares advice from the wedding trenches.
GET THE AFTERPARTY STARTED: Festive tips for a fabulous postnuptial celebration.
RESOURCES
THE LOWCOUNTRY LOWDOWN: Essential details for a Southern Coastal wedding, from forecasts to forms.
FIND SANCTUARY: Our guide to the region's most enchanting spots to exchange your eternal vows. 
THE PERFECT SPACE: You've chosen your soulmate. Now choose your reception venue.
SOMETHING OLD: Start your marriage on a honeyed note with a traditional mead toast. 
THE LOVE LIST: Planning a Southern Coastal Wedding? These experts will lead you to wedded bliss in style. (special advertising section)
REAL WEDDINGS
NICOLE & ALEX: This Manhattan couple escaped the hustle of New York to say "I do" underneath The Cloister's storied oak and terracotta canopy.
KATELYNN & TYLER: A year after marrying in a private ceremony on Daufuskie Island, a New York City couple returns for a chic destination wedding complete with family and friends.
CAROLINE & VINCENT: A go-with-the-flow couple ties the knot on the Wilmington Island waterfront.       
MARK & LOGAN: After two pandemic-related delays, a Savannah soirée was written in the stars. 
VICTORIA & GREGORY: A Northern couple flew south for a sophisticated winter wedding with tropical accents. 
CLAIRE & PAUL: A rock-and-roll elopement turns wedding dreams into reality for a stylish Savannah couple.