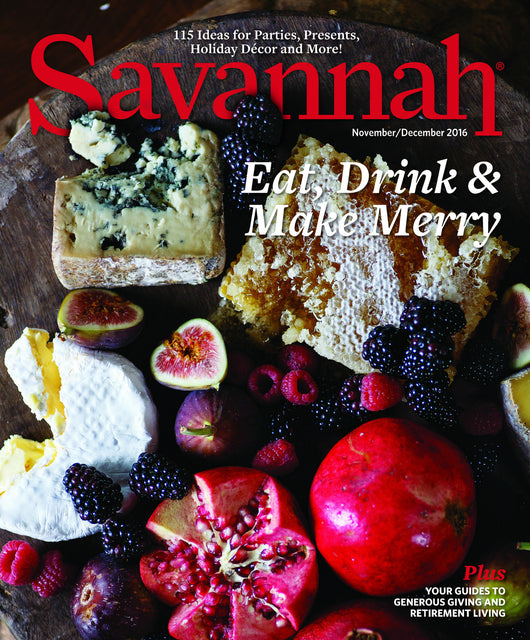 2016 November/December
Features 
- Make Your Presents Known (pg. 87): Lifestyle guru and cookbook author Libbie Summers and her creative collaborator, photographer Chia Chong, guide us through the art of giving, Savannah style. 
- Grateful Harvest (pg. 100): November in Savannah is the perfect season for a little front-porch sitting—and a wonderful time for an outdoor feast with friends.
- Light the Way (pg. 105) - Traditions run deep and wide in the Berman household, where four generations celebrate Hanukkah with fried foods, fellowship and friendly competition.
- Bright, Shiny Things (pg. 108): What happens when an artist invites a chef, a mixologist and two interior designers to her home for a holiday brunch? The chicest of chic parties, that's what.
- Nurturing Neighbors (pg. 147):  Meet four organizations making a difference in the lives of our fellow Savannahians—along with tips in the joy of giving at any age.
- Gift of Sight (pg. 164): A life-altering diagnosis leads one local designer on a vision quest and toward a new purpose in life.
- The Long Game (pg. 170): Local financial planners help prepare us for a healthy and happy future.
Also includes: Savannah Buzz, Style, Home, Taste, Health, Seen, and more! 
There's no place like Savannah. That's why there's nothing like Savannah magazine. 
*Price includes First Class shipping.