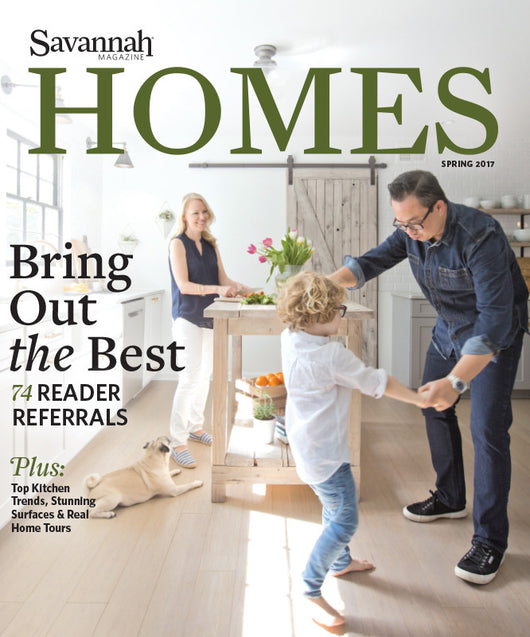 2017 Spring HOMES
Features
Mod About You
The bright, bold designs of the atomic age enliven a family's midcentury sanctuary in Habersham Woods.
Old Soul/New Sight
A Savannah transplant finds the best of both worlds in a modern home set in a historic neighborhood.
Go the Distance
From 4,000 miles and an ocean away, a family works with a local designer to bring their dream home to life.
Follow the River
An expansive build on an old lot honors its environs—and recalls the look of long-ago coastal homes that grew room-by-room with their families. 
Best of Savannah Homes 2017
The most comprehensive word-of-mouth, objective listing of all the local resources you need to keep your home up and running, inside and out.
The Front Porch
New in 912
What's happening, you ask? Rosy shades of copper, bronze and gold are giving a shine to kitchen and bath fixtures; a new kind of citrus tree will be perking up your cocktails in no time; and a cadre of designing women are making our city one beautiful place to call home.
In Store
It's getting graphic at the surface level, where floors, counters and backsplashes are becoming statement pieces as well as works of art.
Before and After
We share the details of two recent kitchen renovations that breathe new life into the heart of the home—and up their quality of life quotient.
How To
A narrow, 550-square-foot space is transformed into a swank urban retreat, and we've got the facts and figures to help you go solar.
On the Cover
Khoi, Kristen and Caleb Vo prove that a kitchen can be at once practical, elegant and, most of all, fun. During the midcentury home's renovation process, Khoi, an interior designer and the chair of Savannah College of Art and Design's interior design department, reconfigured the kitchen and widened the entryway for an open, sunlit effect.
Photography by Chia Chong
*Price includes First Class shipping. Will be shipped out after Feb. 1. 
The Authentic Savannah.